8
minutes
So, you want to streamline the workflow of your business and you're looking for ways to become more efficient. You're thinking to yourself, "How can I get more done in less time?" Well, hiring a remote executive assistant is a great way to fine tune your business processes.
The main advantage of hiring a remote executive assistant is that you can assign the finer details and day-to-day operational tasks to them while you focus on the bigger picture.
With an EA, you can devote more time to analyzing your company's performance and expanding your business. Since remote work poised to drive even more change in the coming years, hiring a virtual EA is a natural choice for business owners looking to become more efficient at work.
A remote executive assistant can do many things to help you be more productive, and depending where you look, the features they offer can greatly vary. Wing, for example, offers trained and dedicated remote assistants available for your business needs. You can task them with scheduling and managing calendars, providing CRM management and internal support, and much more!
What can a remote executive assistant do?
Executive assistants are the key to your success. You need a dedicated assistant who can help you stay on top of your business and provide support in whatever capacity you need. You'll also want to hire an executive assistant who is a good fit for your business and who will add value to your team.
Perhaps you're now thinking, "why should I specifically hire a remote executive assistant? How are they different from an administrative assistant?" EAs and AAs have different functions and offer different kinds of services. While an administrative assistant focuses on general support and office functions, executive assistants are expected to take on more complex or specialized tasks.
For example, a remote administrative assistant will usually handle things like sorting your inbox and scheduling appointments. Meanwhile, you can count on a remote executive assistant to take care of following up with clients, social media and community management, or conducting secondary research.
If you want to offload routine tasks, an administrative assistant is your best bet. Meanwhile, if you need someone to create reports and updates, monitor analytics, and be proactive, get an executive assistant.
How do I find a great remote executive assistant?
When hiring an executive assistant, there are certain qualities that you want to look for. You want someone who can communicate well, who can multitask, and who has the right work ethic.
Here are 7 important tips for hiring a solid remote executive assistant: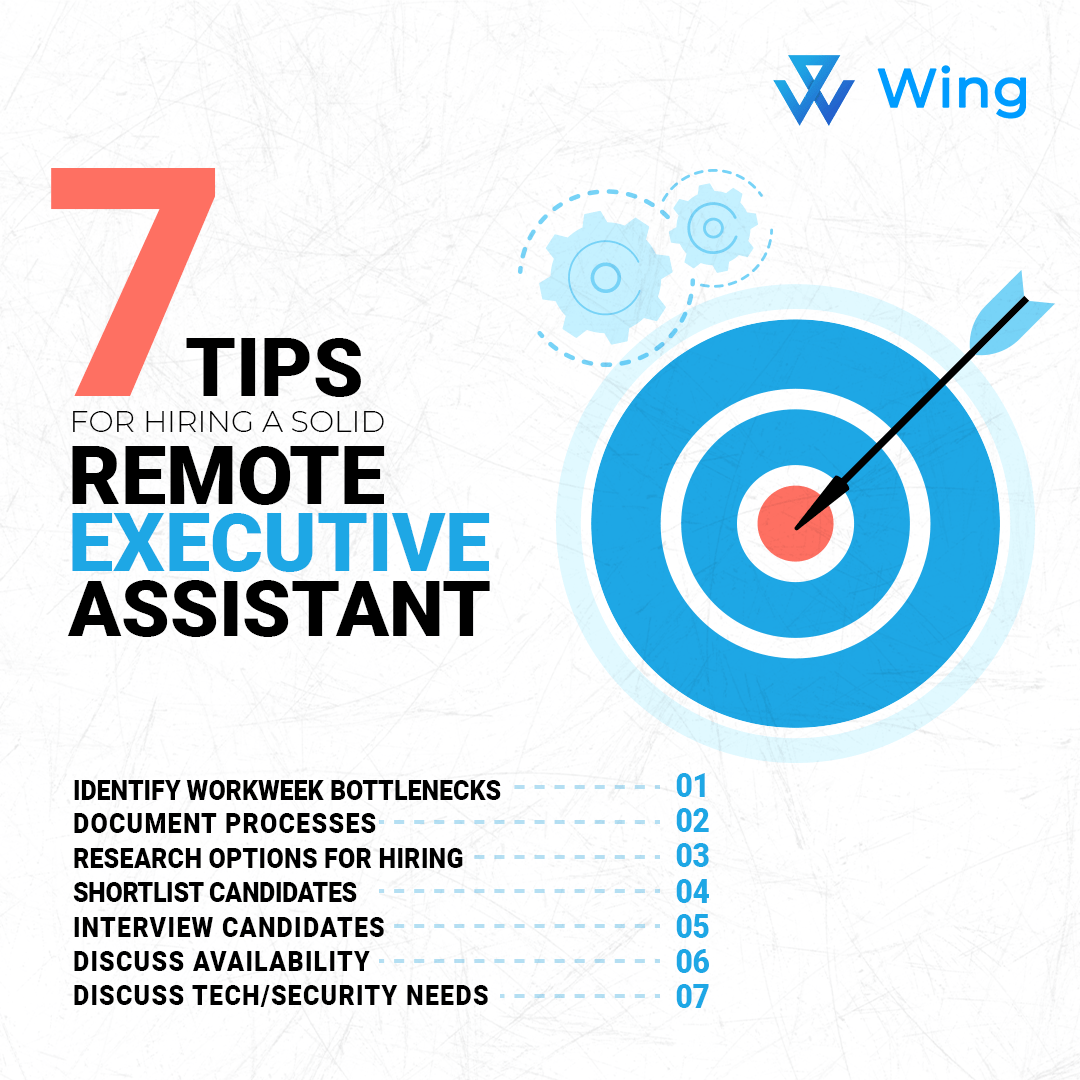 1. Identify the bottlenecks in your work week
If you want to hire a capable executive assistant, first you need to know the scope of your needs. If you yourself don't have a clear idea of what you expect out of your executive assistant, then you won't be able to properly evaluate your candidates.
So, start by asking yourself some basic questions. What tasks do you need to get done on a daily basis? What parts of your workflow do you need to delegate to your EA?
Identify the number of tasks you want your executive assistant to perform and how much time and workload they will be responsible for. Once you have this information, you can more thoroughly consider the type of EA that will fit your needs.
2. Document processes for your remote executive assistant
Once you have a list of tasks, you need to create an action plan for the tasks that you want them to perform. This will greatly help streamline their learning curve once they start working for you.
For example, if you require your EA to make sales calls or schedule appointments, then you need to document this in a specific format. You can provide scripts or templates, as well as how-to videos that will teach your EA the ways to navigate your preferred CRM tools.
Similarly, if you need them to manage your social media, you can create a comprehensive brief on how to post and schedule content on your various accounts.
Whatever your needs are, you should thoroughly explain all the responsibilities your EA will have, as well as the specific expectations you have for them.
When your processes are documented, you'll be able to create a comprehensive guide for your EA on how to perform each task. This will allow you to easily communicate your expectations and guide them on what they need to do in order to get things done.
3. Research your options for hiring a remote executive assistant
Once you have a clear idea of what you need your EA to do, it's time to start researching. You need to find the best fit for your business.
Generally, you can find a remote executive assistant in freelancing platforms or in managed services. Both options have their own pros and cons, and of course, the quality of the service you receive will depend on the agency or freelancer you choose.
The main difference between managed services and freelancing platforms is that managed services are going to set your remote executive assistant up with tools and a support team in order to provide them with better support. They can also work with you on a contract basis so that you have more control over what your EA is doing and how much they are charging.
Furthermore, while freelancers are usually hired on a per-task basis, managed services offer packages that will include management of the remote executive assistant, as well as various support services. So, while it all depends on your needs and budget, if you'd like to hire an assistant that's backed with more guarantee, your best bet is looking into managed services.
4. Check procedures at the companies you've shortlisted
Now that you have a list of companies that are able to provide remote executive assistant services, it's time to check their procedures. You can find this information on their websites or by contacting them directly.
To be able to hire a quality EA, you need to understand the different working environments, features, and limitations of the companies you've shortlisted.
For one, consider their pricing options and what their offered work hours are. Most EAs will offer different packages for their services. Some are only available during certain time slots of the week, while others can go as far as being on-call 24/7.
You can also research if you'd only be able to communicate with your EA through specific channels and apps, or if they allow more flexibility. Most EAs will be familiar with common task management software and communication software such as Slack, Asana, Trello, ClickUp, monday.com and many more.
Ask the company's customer success team whether their EAs are familiar with the software that you use in your workflow. If you spend a lot of time travelling overseas, ask if their services allow you to work with your EA from anywhere in the world.
Additionally, you should look into their privacy policies and whether or not it covers you and protects your company. What kind of data does the company collect when you use their services, and how may they use it? Knowing the company's policies helps you evaluate whether you can entrust them with your company's confidential information.
5. Interview the remote executive assistant you're hiring
Once you have a list of companies and have gone over their services and procedures, it's time to choose a service provider and meet your assistant.
In order to determine whether or not they are a good fit, you must evaluate the candidate's skills and experience. Ask them questions about roles they've had in the past, how they were hired, and what they do on a daily basis.
A solid remote executive assistant should have ample problem-solving skills, attention to detail, and a lot of resourcefulness. They should be able to multitask and be adaptable to new situations. Most importantly, they should be motivated to see your company succeed.
It's important to note that while assessing the EA may be difficult in a 30-minute interview, you could refer to the EA's past projects and work experience to gauge how they have performed in the past.
6. Talk about your assistant's availability
When you hire a remote executive assistant, it's good to remember that they will have their own life and work on their own time. Not all services or freelancers will be able to be on-call 24/7, so it's important to discuss your expectations with them upfront.
Figure out what the limitations of their work hours are. If you and your remote executive assistant live in different time zones, you should determine what time they will be available. If you are hiring a remote EA for a period of time, you should also decide on the frequency of their availability.
Some EAs offer their services for a set amount of time per work week. In this case, you can ask if those hours can be broken up as you needed, or if they are limited to a certain time slot.
Assistants must be dedicated in order to produce high quality work. So, your wing assistants will be accountable for you. For example, Wing is by default available for use eight hours per day, five days per week. You are permitted to select an eight hour window, and that window is permitted anytime, but it must be a solid block of time.
You should also determine if they will be available on weekends or during holidays. For example, if you're hiring a remote EA for a week-long trip, then you can work out your expectations on whether or not they should be on-call for the entirety of that work week.
Finally, you can discuss the different expectations you have on how they should allocate their work hours. If you want to delegate certain tasks for them to work on specifically during synchronous hours, for example, then this is a good time to communicate that.
7. Discuss your tech and security requirements
Before your remote executive assistant starts, make sure that they have the right tools and technology to do their job. Start by discussing the best way for them to communicate with you. The choice of platform and communication method depends on your needs and their limitations.
For example, if you're working with multiple vendors and business partners, then it may be beneficial for your EA to have access to a number of CRM platforms in order to better communicate with everyone. If you're putting your EA in charge of email marketing, bookkeeping, or other functions that require software, they must have access to these as well.
Furthermore, if your EA is going to manage your social media accounts, then it's important that they have a certain level of expertise on how to use these platforms. It's also important that they know how to schedule content and interact with users through these channels.
You can also discuss the security needs of both parties. If you're hiring an EA through managed services, you should peruse their privacy and security policy. This will help you find out what information they are able to access and how they will protect your data. You should also make sure that their work computer has the appropriate security software in place to protect the files on their computer.
Doing all of these will help you feel confident that your data is safe while your EA is working on your behalf.
Hire the best Remote Executive Assistant from Wing – Managed, Trained, and Dedicated Assistants at $899/mo!
If you want an option with the best amount of support and guarantee, it's good to consider hiring a remote EA from managed services.
A managed service provider will help match you with the perfect assistant for your needs. Moreover, EAs employed in a managed service provider usually go through a more rigorous vetting process, so you're much more likely to get the best bang for your buck.
A Wing Remote Assistant can fulfill all of these needs and more. At just $899/mo, you can have a dedicated assistant that will help optimize your workflow and increase the productivity of your work weeks!
Alexander Lim is the founder and CEO of Cudy Technologies, a platform aiming to deliver high-quality educational content to students around the world. He is also a freelance writer specializing in tech, startups and marketing. He's passionate about learning, digital marketing, and the SaaS space, and he likes writing about how startups can market their products and content effectively online.