8
minutes
Virtual assistants have made our lives easier in a lot of ways. Whether for scheduling meetings, finding information, or checking the weather, they have become our favorite helper. There are many third-party providers out there dedicated to making life easier for us, but anyone can get overwhelmed by the variety of choices. One of these providers is Belay Solutions. This article will go through Belay Solutions reviews, pricing, coupons, features, and more. You'll find all you need to know about Belay Solutions, so you can decide if their services are the best for you.
Each provider has their own strengths. A company like Wing, for example, offers unlimited access to dedicated remote assistants. These VAs can perform almost any task you can think of. Similarly, Belay Solutions offers virtual assistants capable of handling robust tasks.
About Belay Solutions
Belay Solutions is a leading provider of virtual assistants. First founded in 2010, it has its headquarters in Atlanta, Georgia. However, it has a network of virtual assistants spread across all 48 states within the US. Belay Solutions offers its services in four main categories: general virtual assistants, web specialists, bookkeepers, and social media managers. Whether you need a virtual assistant for your work or personal life, Belay Solutions has the right person for you.
Belay Solutions' Offerings
Belay Solutions has an impressive array of virtual assistants. Its general virtual assistants are trained to do simple administrative tasks like scheduling meetings or updating your social media profiles. On the other hand, they also have more specialized VAs. Belay Solutions' web specialists are trained to provide you with technical support for your website, for example, including designing your site.
Let's get a bit more in depth to Belay Solutions reviews, pricing, coupons, features. First, we will go through each category of their offered services.
General virtual assistance
Belay Solutions' general virtual assistants are the most popular. People can benefit from a general VA in a variety of ways. They can aid in managing your inbox and calendar, write social media updates, and make bookings or record expenses for all your traveling needs. These VAs can be invaluable to those that need a little help in managing more menial tasks. However, their general VAs are usually not trained to do complex tasks that require specific expertise. For that, you're better off trying some of their other services.
Social media management
Belay Solutions' social media managers are trained to help you manage your social media profiles. You can get help in strategizing and managing your content calendar, as well as get reports on your brand's social media presence. These VAs can also edit posts on your behalf and schedule posts in advance. They are the best choice from Belay Solutions if you need to improve engagement and create conversations surrounding your brand.
Bookkeeping
Belay Solutions' bookkeepers are trained to manage your personal and business finances. Not everyone enjoys poring over countless spreadsheets, which is why you can turn to Belay Solutions' bookkeepers. These VAs can perform complex tasks like manage your payrolls and invoices, making sure they're processed properly. They can also make reports and balance sheets, as well as maintain records of your transactions. If you want to make sure that all your business transactions are properly managed, then you should consider a Belay Solutions bookkeeper.
Website development
Belay Solutions' website specialists are trained to provide you with the best technical support for your website. These days, having a solid website for your business can be a gamechanger. Not everyone is a technical whiz, though, and this is where Belay's web specialists come in. Their dedicated techies can design your site's build to optimize the user experience. They can also provide plugin updates and take care of any maintenance needed. For example, they can schedule regular backups for your site so that you don't lose any precious data.
Belay Solutions' Pricing
An important factor to consider when choosing a virtual assistant is the price. Not all VAs are the same, and some providers may offer them for cheaper prices than others. Of course, cheaper doesn't always mean better. The most important thing to look for is the experience and the level of service you get from your VA. You also need to consider how flexible the hours that your VA works are. A good provider will have flexible schedules that fit your needs without breaking your bank. Here are some details on Belay Solutions' pricing.
How many hours of work coverage does Belay provide?
Belay Solutions' virtual assistants can work from Monday to Friday. You can choose from a wide range of hours to accommodate your schedule. Generally, they have a set minimum of 10 work hours per week, but you can choose from different amounts of hours depending on your needs. You can also add up to this amount until a maximum of forty hours per week, should the need arise. Alternatively, you can also hire an additional virtual assistant, if one isn't enough.
This makes Belay Solutions a great choice for companies that can't always predict when they'll need their virtual assistant. Should you suddenly have a big project come up, you can depend on your Belay VA. They also offer service plans with a flat monthly fee, so your VAs will remain easily accessible to you throughout your work week. Furthermore, you don't have to deal with payroll when it comes to Belay's VAs, or any additional employer costs. Compared to having traditional in-house employees, Belay Solutions' prices can be a steal.
What packages or pricing options are available?
The pricing for Belay Solutions' services aren't crystal clear, as you can't find them outwardly stated on their official website. In order to figure out precisely how much you will have to pay for their VAs, you'd need to contact a Sales representative of theirs. However, as of October 2020, they are reported to charge hourly rates that can be anywhere from $34 to $50. This may vary depending on the plan you work out with their Sales team.
This may be a bit steep for some businesses, but it can be an affordable option for those that need the best support they can get. However, it should be noted that they have a 30-day cancellation fee. This means that you will need to inform them a month prior to canceling their services, and you'd still need to pay in the meantime. In other words, you may end up having to pay for hours that you don't necessarily want or require. To add to that, they do not offer refunds. If you find that the VA they matched you with isn't a good fit, this may lead to a hefty burden in your wallet.
Belay Solutions Coupons
Coupons are great ways to save money on services you need. They can be beneficial for those that have to pay upfront, as well as those that have to pay monthly. Coupons can also be useful if you're a regular customer, so you know what your usual price is and can plan accordingly. Should you become a repeat customer, you can also look for coupon codes that will allow you to save more money. Here are some Belay Solutions coupons available as of May 2022:
According to Dealspottr, you can try the following promo codes on Belay for discounts on savings: TAKE10, EXTRA15, EXTRA10, EXTRA20, and MEMORIAL.
According to GreenPromoCode and Dealdrop, you can use the promo code MINDSET to get a $50 off on all Belay orders. This promo code has a limited availability.
Belay Solutions doesn't list any specific promo codes on their website. However, they do have a very active social media presence. You can look for their promo codes there and see if they pop up. Additionally, you can always ask their team during the initial Sales call, as you're discussing your plan and coverage.
Belay Solutions Reviews
One of the best ways to make sure that you're getting the best service from a provider is to read customer reviews. By reading reviews, you can get a sense of what other people think about their services. Reviews are also great for finding out if your provider is reputable and reliable. If the majority of people are raving about them, then you can be confident that they're good at what they do. Deciding whether or not to choose Belay's services is no different.
Belay Solutions has been around for over 10 years, so they've established themselves as a reputable company. And as one of the most trusted providers in the industry, they are always eager to help you with any questions or concerns you may have. This also means that they've accumulated many reviews throughout this time, which range from positives to negatives. Some noteworthy points in these reviews are as follows.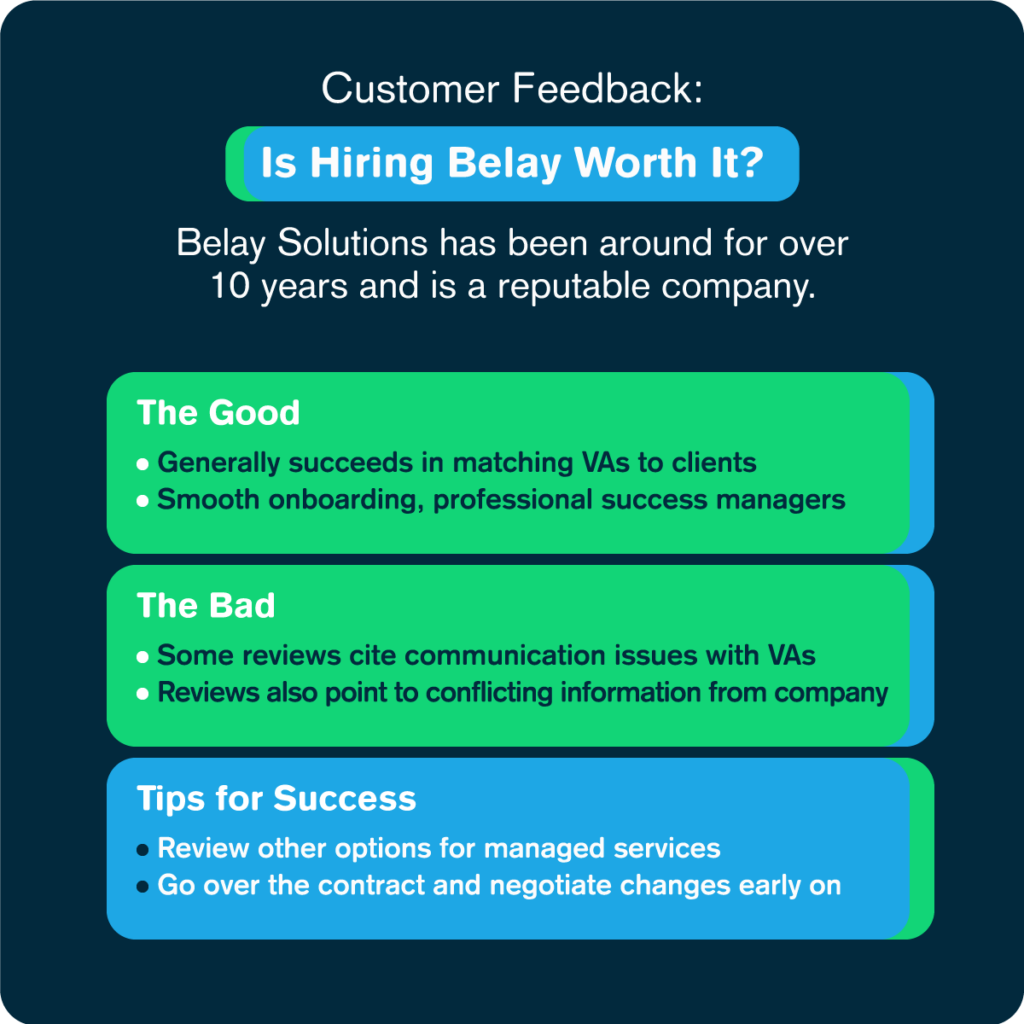 The Good
A good starting point is to note that a majority of reviews for Belay Solutions found online are filled with positives. Many have praised Belay's capability in matching their clients to the right VAs.
They are also reported to have a smooth onboarding process. Their official site claims this is due to their Client Success Consultants and Implementation Managers. Their Client Success Consultants ensure that the best person for the job is found, while their Implementation Managers make sure that the person is properly trained and prepared for their new position. Many customers also report a high level of professionalism from Belay's team for this reason.
The majority of these reviews go on to state that Belay's VAs are very responsive and professional. They generally are already trained to perform tasks with minimal supervision. Many cases also note that the VAs have helped improve the clients' workflows by introducing and implementing new digital tools. Though their VAs work remotely, their talents are often felt on a day-to-day basis and surpasses through any geographical barriers. This is due to their great level of professionalism and communication.
The Bad
Some customers did have complaints about Belay's services, however. A few people had a bad experience with their VAs. One case in particular was that of a VA who failed to meet their needs and seemed to have various communication issues. Though Belay tried to solve the issue and offered a discount for future use of their services, the damage was done.
Another similar review stated that they let go of a VA due to apparent inexperience. However, they had to deal with a 30-day out clause and were not given a refund. This all led to a hefty expense on the client's part.
Finally, some customers also reported that Belay would offer conflicting information. One issue was that the process of contract negotiation was not clear cut. The client ended up spending high amounts of money in legal fees to have an attorney review their contracts. This had to be done multiple times due to Belay's inefficiency with meeting the client's demands and requested changes.
Overall, these reviews are mostly positive for Belay Solutions. Still, some of the negative reviews are worth taking note of. A general rule of thumb is to read through their contract carefully and make sure to negotiate changes from early on. These things are crucial to finding the right person for your needs.
Wrapping Up: Belay Solutions Reviews, Pricing, Coupons, Features, and More
Based on our findings surrounding Belay Solutions reviews, pricing, coupons, features, and more, it is evident that Belay is a trustworthy provider. They have been around for over 10 years, and they have a good reputation in the industry. Their VAs are trained to do a variety of tasks, and you can be sure that you'll get the best support you can get.
However, it is not a perfect choice. Negative reviews found online suggest that they can have miscommunication issues. Certain clauses in their contracts such as the 30-day cancellation fee are also something to remember. And for a reported cost of minimum $34 per hour, they are not the most affordable option out there. Finally, they only serve clients based in the US.
So, if you're looking for a more affordable and flexible option, you may be better off trying another provider. Wing Assistant, for example, offers pricing plans for as low as $899/month for 8 hours per weekday. In other words, you can pay as low as $5/hour. Should you be someone who travels often and needs a VA that can adapt easier to your schedule, you may be better off trying a different provider. Either way, knowing exactly what your needs and budget are is key to getting the most out of your VA.
Alexander Lim is the founder and CEO of Cudy Technologies, a platform aiming to deliver high-quality educational content to students around the world. He is also a freelance writer specializing in tech, startups and marketing. He's passionate about learning, digital marketing, and the SaaS space, and he likes writing about how startups can market their products and content effectively online.