6
minutes
Many people consider launching an e-commerce business as a reliable way of building an additional income stream. And it could be, but getting an online store to thrive involves tedious and time-consuming activities that you could be offloading to someone else, like an e-commerce assistant.
There's no better time to onboard an assistant than at the start of a venture, and investing in a trained, dedicated e-commerce assistant is one of the smartest ways to quickly grow your store. Your assistant can help you check tedious tasks off your to-do list, freeing you up for strategizing and growing your business. Curious how this happens? We got you—here are 5 tasks you can simplify when you get a VA specifically for your online store.
An e-commerce assistant helps in niche research
First things first—what are you selling? When launching your business, you cannot cherry pick the items you'll include in your catalog. You must be strategic and do your research, something that's easier said than done. Researching competitors and your target market is necessary but it often eats up more time that you could afford allocating.
Increase your chances of finding the best products to offer by being strategic about the research phase. If you have an e-commerce assistant, ask them to go beyond browsing Amazon and looking up various product keywords. You can find ideas for profitable niches on places like Quora and Reddit, in conversations among community members, and in the comments sections of popular vloggers.
Having your e-commerce assistant compile the raw information makes evaluating niches efficient. Once they generate a list, you can look at several criteria to determine what you should sell in your store. Things like potential market size, local availability, the markup you can reasonably set, product size, weight, and durability, whether the item is consumable or disposable, and government restrictions or regulations are all factors that would affect how much of a product you can sell.
You can also implement this system of data gathering and analyzing for other aspects of the research phase. For example, you can have your e-commerce assistant look up competitors in your space, make profiles on potential customers, and make a report on your target audience. Armed with all this data, you can make informed decisions about what items to carry and how to market them.
An e-commerce assistant provides operations support
Another crucial decision when launching an e-commerce venture is what type of business structure it should take. A common concern among owners is whether or not they should form a limited liability corporation (LLC), another type of corporation, a sole proprietorship, or a general partnership.
There are various reasons to choose each type—consulting with company OS specialists like Firstbase will help you identify the structure you should take. Firstbase has helped establish more than 5,000 LLCs, about a thousand of which are e-commerce businesses. You can start with their LLC or C-corporation quiz—it'll take about 7 minutes to complete and will give you a good idea of what business structure suits you best.
Why should I incorporate as an LLC?
That said, deciding to become an LLC provides various benefits to your company. Besides being the simplest way to establish a business, forming an LLC makes filing taxes and protecting company assets easier. All business owners understand that they need to protect themselves and their assets, and LLCs make that easier.
Incorporating as an LLC also protects your reputation. Although no one wants to have legal troubles, it's a reality that all business owners must prepare for. If your business gets caught up in a scam, or if someone sues your company, you'll find it easier to bounce back if you're an LLC. Since an LLC is a separate legal entity with its own Federal tax ID number, it is responsible for its debts and liabilities. If a creditor files a lawsuit against your LLC, they cannot collect money from your personal bank account or take your car or home.
Should something unforeseen happen to your business, you as an entrepreneur will be safe. Creditors and other parties cannot go after your personal assets, and you'll be able to start all over again with your professional reputation intact.
What's more, forming an LLC serves as a "trust badge." If you are incorporated as one, employers, customers, investors, and others in your network will get that extra assurance that they're dealing with a "real" business. Finally, LLC owners have greater security and privacy since company ownership of LLCs isn't required to be on public records—disclosure and reporting requirements are limited for this type of company.
Once you've decided what type of structure your business will take, you can request your virtual assistant to fill out the necessary paperwork and applications for you.
An e-commerce assistant obtains business permits for your store
Another thing companies like Firstbase can help you with is applying for and securing an EIN, or an Employer Identification Number which most platforms like Amazon require. Firstbase can also register your business with your state, track your application's progress, and ensure that you quickly receive your documents.
Since e-commerce businesses are often home-based, they don't need as much paperwork as brick-and-mortar stores. Still, depending on the type of items you sell or your state's regulations, you might need other licenses like health, safety, or environmental permits. Your e-commerce assistant can work with EIN specialists to ensure that your e-commerce store has all the necessary paperwork for you to start operating your business.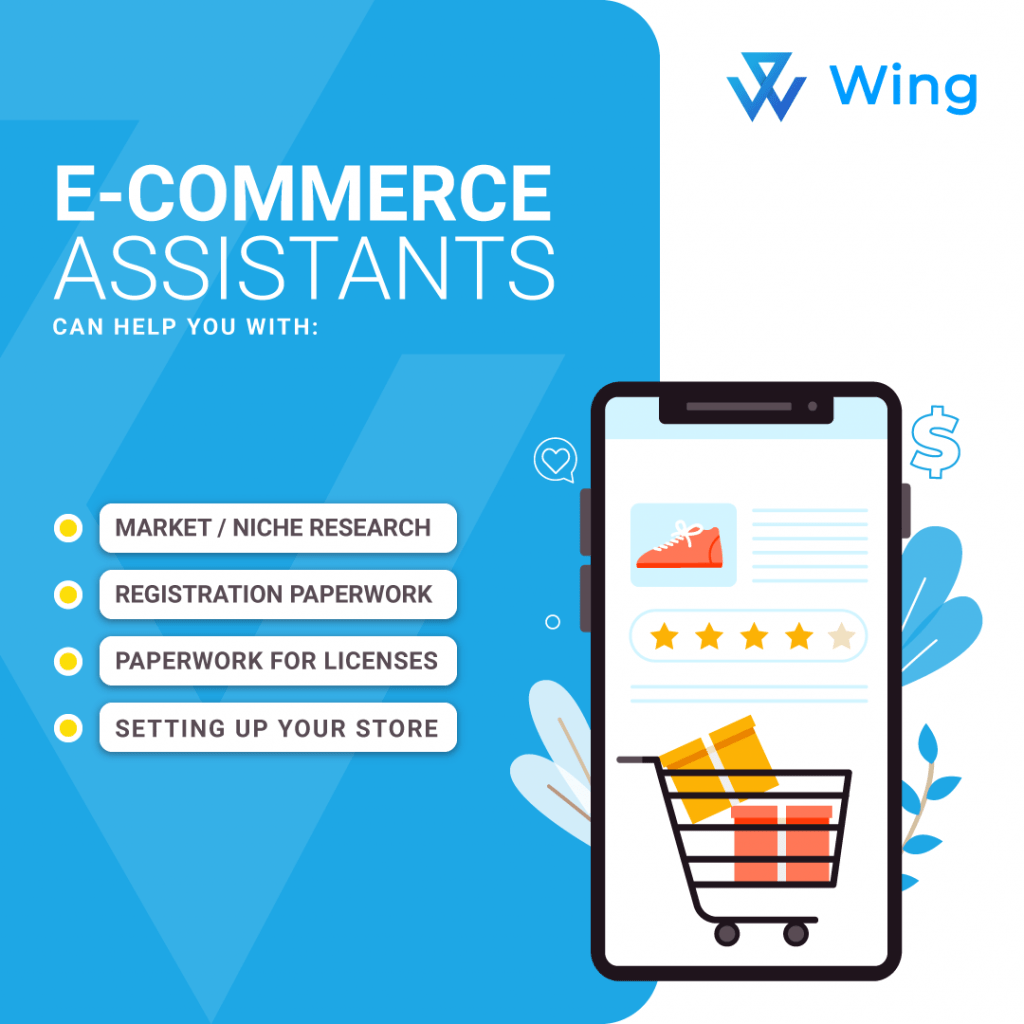 They help in setting up your store and sourcing products
One of the most time-consuming things about setting up your e-commerce business is choosing the platform for your website. Besides Amazon, you can use Shopify, WooCommerce, or Squarespace, among others. Most e-commerce stores, especially ones that are just starting out, would benefit from using Fulfillment by Amazon (FBA).
As the biggest online marketplace, Amazon has the architecture to store, package, and ship your products for you. You could even hire an Amazon FBA assistant to help you with everything from sourcing your products to responding to customer queries on the platform. When you start your business with Amazon, you don't have to worry about order fulfillment or where to house your inventory—they take care of logistics, and they do it well.
However, being on FBA can be prohibitively expensive for businesses without a lot of capital, or ones just starting out. Besides the FBA fulfillment fee, Amazon also charges business owners with slower-moving stock—they have a long-term storage fee and a removal order fee. Even if you sell out often, Amazon still has inventory storage fees and unplanned services fees, so you'll still end up paying for keeping your products in their warehouses.
What other e-commerce platforms are there besides Amazon?
If you'd like to be independent of Amazon's ecosystem from the start, Shopify and Squarespace are great options. Squarespace is more known as a website builder, but it also provides solid e-commerce support. Meanwhile, Shopify is a subscription-based commerce platform offering a hosted online store, a point of sale system, payment processing, and more.
You don't need technical expertise to use these platforms—and if you do encounter problems, they have customer support representatives ready to respond to your questions. With a store outside Amazon, you can have the branding you want, ensuring that you're advertising and marketing your business the way you want to.
Finally, if you already have a WordPress site, you could opt for WooCommerce instead of FBA. This open-source WordPress plugin allows you to include a wide range of e-commerce features on your website. Note that going for WooCommerce requires technical skills, and if you don't already know how to use it, you'll have to offload it to an e-commerce assistant with experience in this plugin.
They assist in developing a marketing plan
When everything is all set behind the scenes, you can start promoting your business. If your research phase went well, you'd have the building blocks for a great marketing plan at this point. You'd know your target audience, your competitors, the pain points of both, and how you fit into your niche. Real life, though, is rarely this neat—when you start marketing your business, you'll realize that you have gaps in your data.
Having an e-commerce assistant means you don't need to circle back and look things up yourself. You can just give them instructions on what you want to know and let them find it for you. An e-commerce assistant can help you gather information for everything from competitor analysis to trends in your industry. They'll also provide marketing and advertising support in the form of content scheduling and creation, community management, simple graphic design, and more.
In summary: leverage others' e-commerce expertise
When building a business online, you cannot simply rely on your own skills. E-commerce stores are set up differently from brick-and-mortar ones, and you need to leverage other experts' skills to get yours up and running as soon as possible.
Besides hiring your own managed, dedicated e-commerce assistant, you can turn to consultants like Firstbase or platforms like Shopify and Amazon. If you know how to seek out other experts, you'll surely set yourself up for success!
Aya is Wing Assistant's blog manager. When she's not wrangling content briefs, editing article drafts and handling on-page SEO, she is crafting messages for Wing's other communication materials. Aya writes about SaaS startups, marketing for startups, search engine optimization, and pop culture.