8
minutes
Ideally, you'll be getting a consistent stream of leads for your business without having to do anything yourself. But, how is that possible? Have you considered outsourcing your lead generation to a virtual assistant? In this guide, we break down exactly how to generate leads with a virtual assistant.
Finding a virtual assistant that specializes in lead generation can be a process in itself, not to mention having to train them on your processes. That's why your best bet is to use a service like Wing, where we match you with a vetted and trained virtual assistant who specializes in exactly what you're looking for. Here is how to generate leads with a virtual assistant and scale your growth.
In a nutshell, what is lead generation?
Lead generation is the process of finding potential buyers for your product or service. They aren't a guaranteed sale, but they are interested in what you have to offer, and by nurturing them effectively, you can increase the chance of conversion. Successful lead generation involves attracting the most likely prospects and capturing their details so that you can start moving them through your sales funnel. Depending on your business, your methods for generating and converting leads will vary, but some common strategies for lead generation include:
Onsite blogs
Social media
Freebies/coupons
Direct outreach
Hosting webinars/events
Networking
To generate leads, you need to offer value. People won't just give you their contact information for no reason. So by effectively targeting those most interested in what you have to offer and providing a value proposition (like free access to a webinar), you can encourage prospects to give you their email address.
Why use virtual assistants for lead generation?
There are many different components to lead generation, and you'll have the most success if you employ as many tactics possible to generate quality leads. The first thing to know about how to generate leads with a virtual assistant is that it's time-consuming. Writing an onsite blog to get subscribers, engaging with people on social media, doing research, and reaching out to potential leads can be a full-time job in itself. But it shouldn't be yours. There are other aspects of your business that require your full attention, so we recommend outsourcing your lead generation to a virtual assistant.
Save Time and Effort in Reaching Out to Leads
Not only does outsourcing save you time and effort, but you can also hire someone who is an expert in lead generation. Unless you are running a lead generation business, it's likely that lead generation isn't your area of expertise. But it is someone else's. By using a virtual assistant for lead generation, you will have a creative professional who is dedicated to staying engaged with your leads. And consistent communication with your leads is essential if you want conversions.
Also, by hiring a virtual assistant for lead generation, you can be confident that the leads you get are quality, making it easier for your sales team to convert them. The last thing you want is tons of leads who don't care about what you have to offer because you'll waste time and resources trying to convert people that never will.
Since a virtual assistant can focus solely on obtaining leads with a defined consumer profile, you will have a much higher chance of converting them.
How to generate leads with a virtual assistant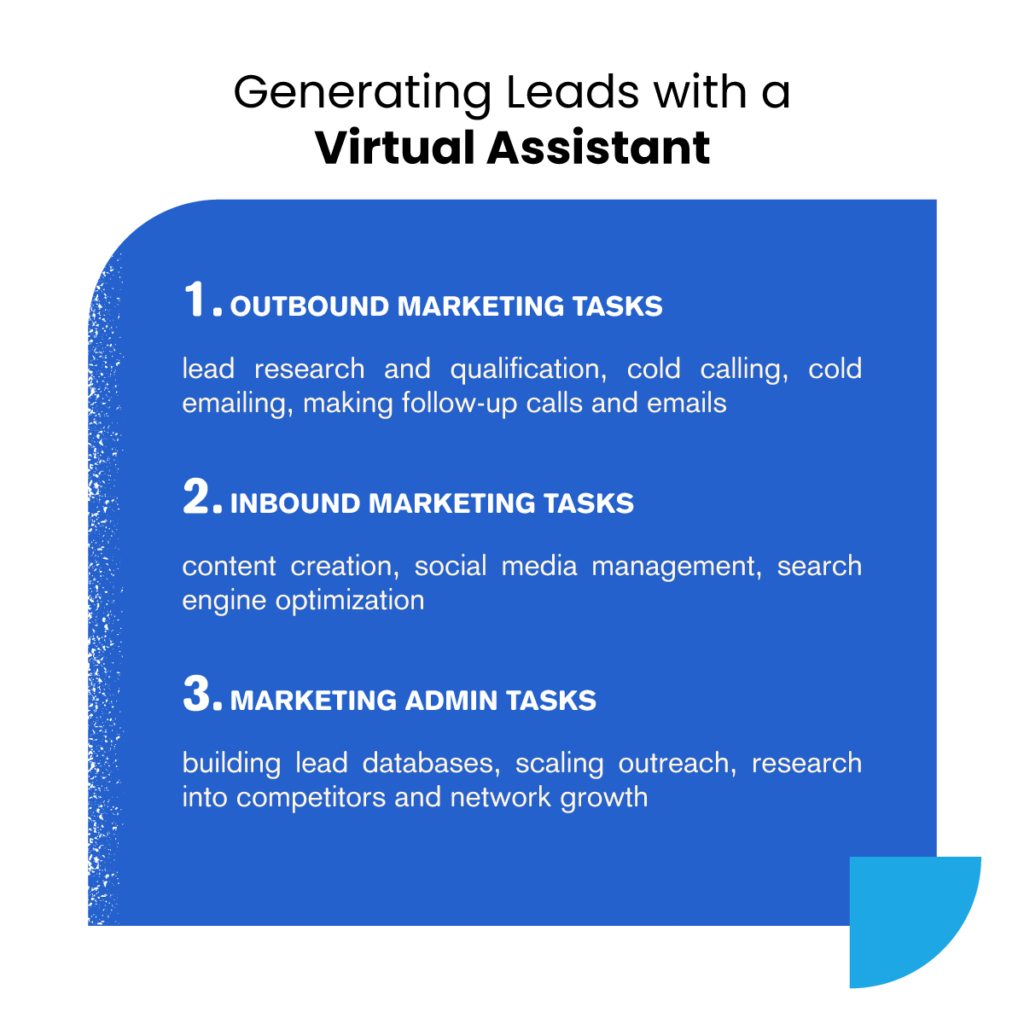 Once you've hired a qualified and experienced virtual assistant, they can get started on your lead generation tasks. There are many different ways virtual assistants can generate leads for your business. Here is how to generate leads with a virtual assistant:
Offload laborious outbound marketing tasks
Outbound marketing is one of the most laborious components of lead generation. But, it is a necessary one. It takes more time, effort, and strategy to generate leads from outbound marketing, and it's never guaranteed to work. Inbound marketing is where the customers come to you when they need you, meaning a higher chance of conversion. Inbound includes things like blogging, SEO, and email marketing (that leads have opted in for).
Outbound marketing includes advertising, networking, cold emailing/cold calling, and direct outreach. Finding the right people to market to with these tactics can be difficult, so having the help of an experienced VA is extremely valuable. Here's some more information about how to generate leads with a virtual assistant, through outbound marketing.
Lead research and qualification
As we previously mentioned, if you're marketing to the wrong people, then you're wasting your time, money, and effort. If you have a dog food brand, you need to market to people with dogs. And a virtual assistant can help you find the dog owners. Using thorough research strategies, your virtual assistant can effectively qualify potential leads, ensuring that they are your target audience. They can find the people who are searching for an answer to a problem that your business helps to fix. The only leads that will make it through the filter of your virtual assistant are the ones with a high percentage of conversion.
Cold-calling and cold emailing
No one enjoys receiving a cold call or cold email unless they actually need what you have to offer. Cold calling is called "cold" for a reason. They don't know about your business, nor have they proactively made an effort to engage with you. And there is a good chance they might not turn into a customer. But there is still a chance. Just as people aren't overly enthusiastic about receiving a cold call, it can be equally as uncomfortable to do the calling or emailing. An experienced virtual assistant who knows how to talk to people confidently can make your cold calling and cold emailing much more effective.
Making follow-up emails or calls
Once you capture a lead, it's vital to continue to engage with them. Consistency is key to keeping your business top of mind and ensuring your prospects don't forget about you right away. Sending follow-ups likely falls to the bottom of your priority list since there are a million other things to do, and you've already captured the lead, so there isn't as much pressure. But not sending follow-ups can be a big mistake. Having a virtual assistant on board to take care of follow-ups for you will dramatically increase the chances of converting your leads.
Offload time-consuming inbound marketing tasks
Equally, if not more important than outbound marketing, is inbound marketing. The leads you generate with inbound marketing tactics are more likely to convert than those from outbound marketing. That's because they came to you first, meaning they've already shown interest in what you have to offer. Now you just need to convince them to stick around! If you're considering how to generate leads with a virtual assistant, below are some of the inbound marketing tasks that you can assign.
Content creation for blogs or vlogs
Creating valuable content is one of the best ways to build authority in your brand and increase your visibility. Before making a purchase, people want to know why they should buy from you. Why choose you over a competitor? If someone lands on your website, either from a Google Search, social media, or links on external sites, they want to see content supporting what your business does, showing you know your stuff!
If you're creating good content that people enjoy consuming, you can get them to subscribe to your mailing list to find out every time you post a new blog or vlog. Provide true value in your niche by outsourcing your content creation to a virtual assistant. Content creation should not be an afterthought, and having a dedicated virtual assistant to focus on creating valuable content will ensure it's high-quality, relevant, and engaging.
Social media management
One of the most common ways people discover new products/services is via social media. We spend hours a day scrolling on our phones. Whether you spend your time on Facebook, Instagram, Twitter, or TikTok, a good chunk of our phone time is spent on social media. Even if people discover your product in other ways, they will likely go check out your social media before making a purchase. If your social media profiles are inactive or the content is low-quality, then it's a big red flag to potential consumers. The odd post now and then won't do it either.
Consistency is one of the most important aspects of increasing visibility on social media.
Outsourcing your social media management to a virtual assistant means you'll have consistent, quality content with strategic hashtag usage and high engagement. This will help increase the visibility of your business and boost traffic to your website as well.
Search engine optimization
If someone needs your product or service, the first place they go is to Google. Let's say you sell custom motorcycle decals online. If someone types in custom motorcycle decals into Google, you want your business to come up at the top. But how do you make that happen? Through search engine optimization.
Many strategic components go into search engine optimization, including link building, website UX, featured snippets, keyword research and implementation, and more. These strategies will help your business rank higher in search results so that your target audience can find you!
What's more, a virtual assistant can take all your SEO tasks off your plate. SEO can be finicky and isn't always straightforward, but a virtual assistant will know all the best SEO practices to optimize your website.
Offload tedious admin tasks related to lead generation
Beyond the lead generation itself, there's a lot of tedious admin that goes into the process. As you grow your business, it's essential that you outsource these admin tasks so that you can focus on scaling. Here are some of the admin tasks that a VA can help you with:
Building lead or contact databases
So you've got the leads, but you need somewhere to store them. And you need to store them in an organized and effective way so that it's easy to find the information you need. Contact databases take time to build. You likely have leads already, but you may not have had much structure in how you stored them. A virtual assistant can build you a contact database/lead list so that you can nurture your leads effectively.
The best option is to use a contact management software to store contacts so you can start moving them through your sales funnel and see exactly where they are at. Contact management software can also be used for things like task management or email marketing. Some great options include Mailchimp, Hubspot, Keap, and Zoho.
Scaling outreach efforts
If you want to keep growing your business exponentially, learning how to generate leads with a virtual assistant is not enough. You're also going to need to scale your outreach efforts. Reaching out to one person at a time is not an efficient way to grow your business.
Outreach needs to be done on a larger scale. Increasing social media following, getting more people to engage in your onsite content, and generating volumes of leads through lead generation material like webinars are all strategies to scale your outreach. And an experienced virtual assistant is exactly the person who will know how to do this effectively.
Resarching Your Competitors
Keeping an eye on the competition is essential to stay relevant in your industry. You need to keep up with the trends and see what others in your niche are doing so you can adapt your strategies accordingly. You might notice a competitor doing something that seems to be very effective and could get some inspiration there.
However, there aren't enough hours in the day to spend time checking in on your competition all the time. But your virtual assistant will have the time and the know-how to identify your biggest competitors, what they are doing right and how you can stand out from them.
Expanding Your Business Network
You can also learn how to generate leads with a virtual assistant by letting them help you with expanding your network. Word of mouth/referrals will always be the most effective way to generate high-quality leads, so expanding your business network is essential. If you have a dog food brand, you want to network with others in the pet niche who aren't direct competitors, like companies that make dog grooming products or dog beds. That way, you can essentially share leads. Your virtual assistant can research and identify networking possibilities and help you get connected.
Hiring a virtual assistant for lead generation
Lead generation is an essential component to the growth of your business, but it's incredibly tedious and time-consuming. Without leads, you have no one to sell your product or service to, but spending your time trying to generate leads for your business takes you away from the high-level tasks you should be doing.
Growing businesses need a steady inflow of leads. Learning how to generate leads with a virtual assistant allows you to focus your efforts on scaling the growth of your business. Generating leads is a huge contributor success of your business, but with so many components and tasks involved in the process, it's impossible to do them all effectively.
Now that you know how to generate leads with a virtual assistant, it's time to get one of your own. Wing Assistant will listen to your business needs and link you up with the perfect, experienced virtual assistant to support your lead generation efforts. Get started now!
Kandice is a content writer & strategist with over 5 years of experience in digital marketing. She specializes in SEO-optimized content for the SaaS and tech industry. She's a digital nomad, currently based in Mexico, and is passionate about helping other business owners and freelancers increase their productivity when working remotely. When she's not behind her computer you'll find her at the beach snorkeling, playing volleyball, doing yoga, or cooking up a delicious vegan meal.